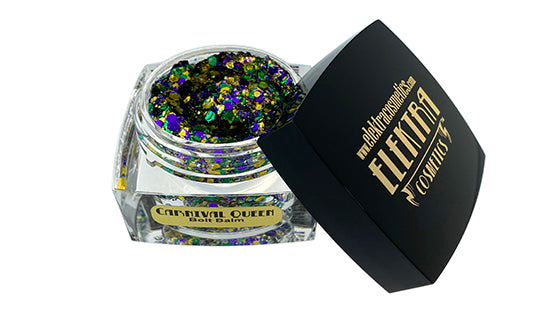 Mardi Gras Bolt Balm Glitter - Carnival Queen
It is the perfect blend of the traditional colors of Mardi Gras.
You will delight in chunky purple green and gold with smaller flake purple and gold iridescent shimmer mixed in.
Bolt Balm is an intense blend of chunky and fine glitters custom mixed in an aloe gel base. It's perfect for Glitter Roots, high voltage accents on the cheeks, and extreme coverage for stage, dance, or festivals.
Bolt Balm tends to be long lasting but can be easily removed with a lint roller. Bolt Balm can worn spread out / sheer or provide moderate to heavy glitter coverage, depending on how you apply it.
To get a more solid glitter coverage, you can apply Bolt Balm then use a brush or cotton swab to add additional loose glitter while the gel is still wet.